Maintain your health with personal training, in-person group classes, and pre-recorded virtual fitness classes with Kim Crowley.
_______________________________________
So happy to offer another opportunity to increase the number of people that can provide lifesaving CPR. Email Kim at strongerwithkim@gmail.com if you would like to sign up.
_______________________________________
Follow us on Social Media 
In-Person Classes 
Please Reserve your Spot, as class sizes are limited.
Reserve at the link below, or by texting or emailing me at 781-346-5654 or strongerwithkim@gmail.com.
_______________________________________
Recorded 

Classes
With the Unlimited Virtual Class Pass, access over 25 pre-recorded fitness classes for $26.99 for a week (Monday-Sunday). Enter any virtual class you want that week. Recorded classes also available individually: $7 each. 
_______________________________________
Personal Training
I am seeing clients for Personal Training in a safe and very controlled environment at our studio. Contact me to schedule strongerwithkim@gmail.com.
_______________________________________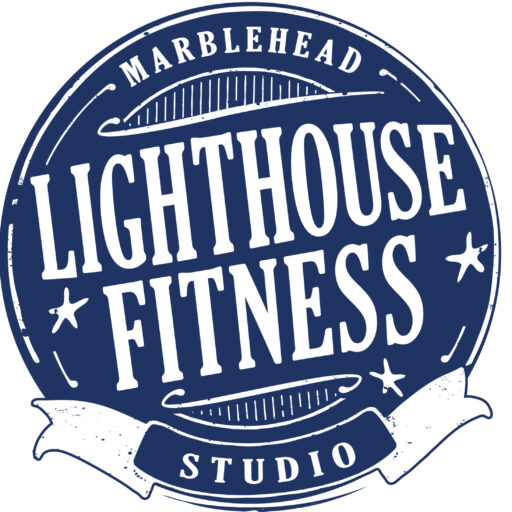 Find a Stronger You at our Marblehead Studio
"Every accomplishment starts with the decision to try." I love this quote from two-time Olympic track and field champion Gail Devers. There are endless reasons why we don't start or stay on a path to healthier living...distractions from work, injuries, obligations, fears, insecurities. We just need to decide to try.
If there is one thing I have embraced it's: LIFE IS SHORT. Don't waste a moment. Live well and fully. My goal is to inspire you to find a stronger self, guiding and encouraging you along the way to a better quality of life. Whether we work one on one or in a group setting, I am devoted to helping you find success. – Kim
From cardio and dance to muscle conditioning, barre and circuits, Marblehead's Lighthouse Fitness Studio has a range of options for varied fitness levels. Kim is an Athletics and Fitness Association of America (AFAA)-Certified Group Exercise Instructor. If you don't see a class that works for your schedule, contact Kim and create a custom class for you and your friends.
Current Schedule
Looking to improve balance, feel stronger, get leaner, find a new challenge, or enhance your overall wellbeing? American Council on Exercise (ACE)-Certified Personal Trainer, Kim Crowley can help you or your small group meet your goals. Training sessions are available at Lighthouse Fitness Studio or at your site. 
Learn More About Training
We all could get a little stronger physically, mentally, emotionally, in work, relationships, family, life. Check out Kim's Blog for healthy recipes, exercise tips, stress management ideas, and more.
Read the Blog